In Concert at Canton Baptist Church
HAS BEEN POSTPONED

UNTIL NOVEMBER 2020
More info to follow soon!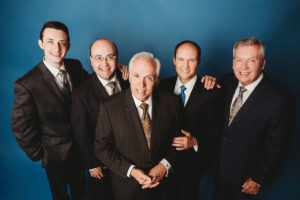 For over forty years Mark Trammell has been blessed to sing Gospel Music. Something he says, "evolved from a dream to a life's call; from just singing to ministry." Many long time observers and followers of Gospel Music consider him to be one the greatest baritone singers of all time. He has won multiple awards as a singer and producer, and has been a member of four of Gospel Music's most acclaimed groups – The Kingsmen, The Cathedrals, Greater Vision and Gold City. For most people, just being with one of these legendary groups would be the pinnacle of a career and justification for resting on your laurels. But for Mark now is not the time to kick back and relax. Instead, it is time to step into a fresh mission that focuses on evangelism through the seamless integration of Gospel Music and preaching – The Mark Trammell Quartet.
If surrounding yourself with the right people is one of the keys of success, then Mark Trammell might be considered a 'master locksmith'. Since he was 15 years old, Mark has literally been surrounded by and sung with some of the most respected men in Southern Gospel Music including Ray Shelton, Eldridge Fox, Jim Hamill, Squire Parsons, Ray Reece, Tim Riley, Glen Payne, and George Younce.
Mark states that the major reason for turning this trio into a quartet is the fact that he desires to help perpetuate the craft that he has given his life to, and to present every aspect of pure gospel quartet music to the best of their ability. In April 2012 MTQ celebrated 10 years of watching God take the unlikely and do the abnormal with only two ingredients involved in its success. Man's obedience to the call of God, and God's supernatural power to do the impossible thru those who are stubborn enough to simply believe He can.